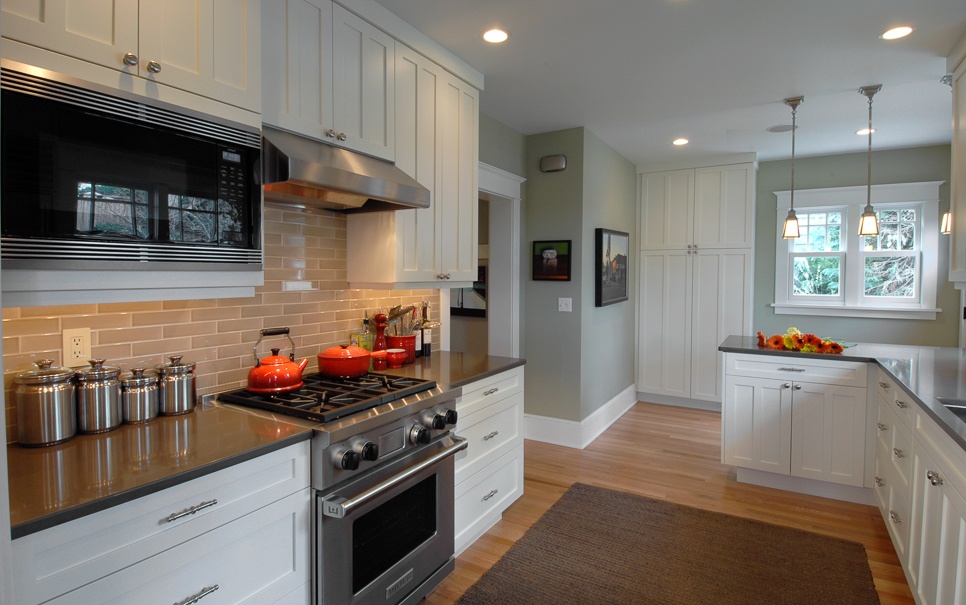 Kitchen remodeling is one of the most important home improvements. It has one of the highest ROI. Whether it be a small renovation or a major remodel; it can help to improve its functionality, add more storage, increase its energy efficiency, improve the appearance of your home, and increase your property's value. However, it could be a costly project. So, if this home isn't your forever home, it is important to determine where to save and where to splurge.
1. Countertops
Splurge!
The countertop is one of the most important visual points of the kitchen so it is worth it to splurge a little bit. You can get a quartz countertop that will be expensive but make your kitchen look beautiful, you can even make decisions on a color scheme, style, and cabinetry based on the countertop you choose.
Your countertop undergoes wear and tear several times a day. Especially if you're cooking for a family of 4 or more. For this reason alone, you're going to want a strong material that will last in the long run. So, when it comes to countertops we definitely suggest setting aside some extra money to get a quality stone that will last you years to come.
See also: Natural Stone Vs. Manufactured Stone Countertops: What's the Dif?
2. Lighting
Save!
Good lighting can really make your kitchen stand out and look modern. However, that doesn't always mean decorative lighting is the way. Invest in under-cabinet lighting and canned lights. They add a modern style to your kitchen, they're easy to install, and can even lower your energy bills. Always go for an LED light fixture which saves about 75% less energy than incandescent bulbs.
If budget allows, you can go for a single decorative light above a small peninsula or your dining table. It doesn't have to break your bank account to look nice. There are plenty of decorative lighting options at lower price points that your designer can help you find.
See also: The 5 Main Types of Kitchen Island Lighting
3. Cabinetry
Splurge!
Your cabinets also represent a huge visual point of your kitchen and can increase its functionality. Spending your money on cabinetry is a wise choice because you can make them custom-made to match the size and design of your kitchen, as well as offer more storage. Pay more to extend the cabinets to the ceiling and configure your drawers to your needs.
There are many ways to save money during a kitchen remodel and your cabinets may not be one of them. We'll get into storage solutions a little later. For now, consider this; your cabinets are a huge focal point. You open and close them all throughout the day and if you have young ones at home, they are probably being slammed, hung on, and being touched by dirty hands. It's important to get an easy-to-clean surface and soft-close doors and drawers.
You may be leaning toward open shelving to save even more money, but you'll still want plenty of hidden storage to house the not-so-pretty kitchen tools like your grandma's slow cooker, cleaning products, reusable plastic bags, and any food this isn't stored in a pretty glass container.
4. Fixtures and Hardware
Save and Splurge!
Hardware like pulls and knobs are subtle details that can make the kitchen look more modern and fresh but you don't need to spend a ton of money to take your kitchen remodeling to the next level. You can find options that look luxurious for a budget-friendly price. Simple hardware will let your attention be drawn to the investment pieces like your cabinetry.
Fixtures on the other hand might not be something you'll be saving money on. Fixtures are one of those things where you get what you pay for. If you purchase a cheap faucet, it is going to look and feel cheap and before you know it- it will probably be leaking.
5. Appliances
Splurge!
You'll use your appliances often so make sure to buy ones that are high-quality and well-reviewed. Invest in a refrigerator that is the right size for your family. Try to avoid the possibility of needing a second fridge in the garage. We've all been there and nothing kills the mood of cooking more than realizing you have to run down to the garage to grab more eggs when your butter is starting to burn in the pan. You don't need to be a gourmet chef to have nice appliances. In fact, studies show that the joy of cooking increases when the functionality of your space is at peak performance.
Remember, good appliances just make life easier. Especially when those good appliances come with warranties! Only get the appliances that you will actually use, for example, you probably won't need a wine refrigerator. Invest in a quality cooktop or gas stove since they have a long lifespan.
6. Flooring
Save!
You can find a wide variety of flooring options for any budget. The floor is not one of the most important visual points of the kitchen and you can get a beautiful porcelain floor that looks like hardwood. This isn't a material that saves money initially, but in the long run, you will save money because porcelain needs less maintenance. Hardwood maintenance can add up after years of wear and tear.
Marmoleum flooring is highly durable. It is often used in many commercial settings like hospitals because of it's durability. Marmoleum is also non-toxic and can be half the price of some hardwood flooring options.
See also: 5 of the Most Durable Kitchen Materials
7. Sink
Splurge!
Going back to what we said about countertops, any surface or material that will be exposed to daily usage and lots of wear and tear are going to be splurge items. What we mean when we say splurge is not necessarily getting a super expensive high-end kitchen sink like the Kohler 3761. At the same time, we wouldn't recommend a low-end off-brand saver sink. Single or split bowl granite composite sinks are also a great option for sinks that are durable and long-lasting. Composite sinks are scratch free and highly durable, whereas stainless steel sinks can harbor hard water stains and feel flimsy if made with thin metal.
To max out efficiency we recommend getting a sink that comes with inserts. Some of these inserts like an air dry rack can help save counter space leaving more counter space for food prep, a coffee machine, or a cute vintage bread box.
8. Backsplash
Save!
There are multiple ways in which you can save money when it comes to your kitchen design. One of the most obvious ones to us is the backsplash. Why is that? A backsplash doesn't get a lot of direct contacts. You aren't touching it, cooking on it, or walking on it. Try only using the backsplash behind the range and sink rather than the entire kitchen wall under the uppers. If you really like the look of the full coverage backsplash then go for more affordable materials like standard ceramic or glass tile. Some of these affordable backsplash tiles can be as low as $5 per square foot.
Try to avoid any natural stone tiles as those are going to be more spendy.
9. Storage
Splurge!
Boost the available space in your kitchen and splurge as much as you can on storage options. A kitchen with good storage functions better and makes the process of cooking a meal feel effortless. Every item will have a place and be easily accessible. This also gives you an opportunity to add cabinet and drawer inserts for silverware, spices, and garbage bins.
Pantry storage is more important than you think because it's more than just one big open cabinet. Pantries hold shelf-stable foods, bulk foods, extra toiletries like paper towels, baby food, and recipe books. Because your pantry is holding such a diverse collection it's easy to lose track of everything that is in there especially when you are feeding a big family. This is the main reason for food waste. When there is no organization, you can easily lose track of what you have and don't have stock.
See our look-book below for more ideas on how and where to invest your money in your kitchen remodel.
In many cases, creating an efficient space for entertaining and cooking is less about the products you choose than it is about thoughtful design. If you are contemplating a Seattle kitchen remodel, please feel free to reach out. My interior designer colleagues and I would be happy to answer your questions and share our ideas.
---
This article highlights a hand-picked selection of work by a variety of designers and builders and is meant to showcase their talent. Please drop us a line if you would rather not be featured on this page.